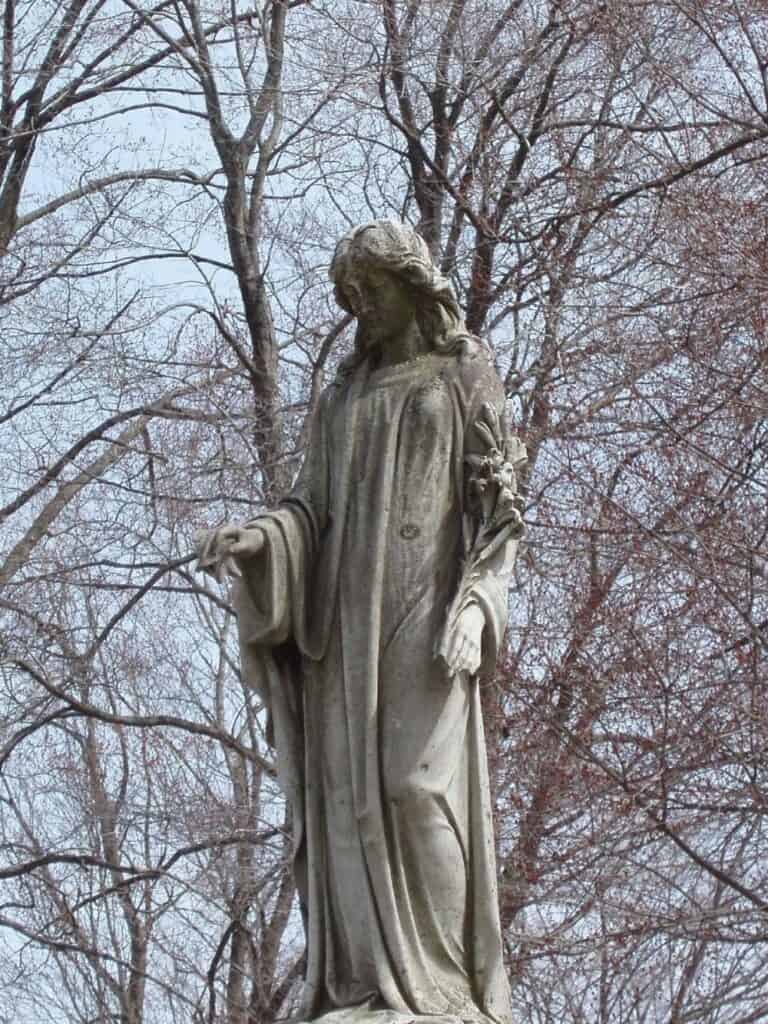 Making Pre-Arrangements for Yourself or Others – Some Important Things to Consider
Few people relish the idea of making funeral and/or burial plans for oneself or others, but it is truly a wise and compassionate decision to take care of this absolute necessity prior to the time of actual need. Family members can be spared considerable grief and difficulty at a time already filled with plenty of both. Many decisions and actions must be attended to at this time, and the need to go 'grave shopping', or scrambling to finance burial costs needn't be among them.
Imagine spending time at a cemetery on a cold, windy winter's day, trudging through a foot or more of snow to pick out a gravesite, or trying to finance the costs of burial, cremation, or other related items, all while burdened with the many cares and needs involved at the time of a loved one's passing. Spare yourself, or someone you care for, these and other difficulties, by making sound, sensible, and measured decisions now, not at a time when you are distraught and unprepared.
It also makes sound financial sense to prepare for the costs incurred at the time of death. Funeral and burial costs can be considerable, and pre-planning can often save a considerable sum of money. Calm, informed decisions, made with the aid of information gathered from multiple sources, can result in great savings, And satisfaction in knowing you have done exactly what is desired for yourself or a loved one. We urge you to take the time to review the information and prices shown here, and at other sites, and then make a decision to act. We assure you that it will be both emotionally and financially beneficial for everyone in your life.
---
Grave spaces are available for purchase at
Lake View Cemetery
You can decide your monthly payment level, after a down payment of as little as 10% of the total purchase price. It is impossible to fully describe all the choices and possibilities available to you in these few pages.  
Please call one of our non-commissioned staff at 716-665-3206, or stop by our office at
907 Lakeview Avenue, Jamestown, NY.
We look forward to working with you, and helping to make your decisions as easy and satisfying as possible.
---
A Few Questions for You – And a Few Answers
---
What are your desires in regard to funerals and burial arrangements?
Obviously we can't answer this question directly – only you can – but we can inform you of the choices available to you. In New York State a licensed Funeral Director must be involved in the disposition of human remains. We urge you to "shop around" – speak to friends who have dealt with the funeral process – and then consult with several funeral professionals. We don't wish to speak for them, but we do want you to know you have many choices. The most important thing to remember in this regard is that you can select the level of service you desire, and your choices are not limited to only those items or services your chosen Funeral Director can provide.
You are free to utilize products and services from multiple sources when arranging (or pre-arranging) funeral services. Burial Vaults, caskets, urns, flowers, transportation services – these and other items may be obtained from the provider of your choice. Of course, Funeral Directors are skilled in meshing all these items and services seamlessly – especially at the time of need – but if you are pre-arranging, it will pay to consult several sources before committing to purchase any item or service. Please check our Price List below for further information on products or services available through Lake View Cemetery. Also check our 'Links' page for other sources of information, products, and services.
What sort of options are available for the disposition of human remains?
Full-size (Traditional) Burial
This option is usually the most involved and expensive process, but remains the most common means of disposition in our area. In almost all cemeteries, an outer case (often referred to as a Vault) must be used to contain the casket in the ground. A concrete outer case (called a Graveliner) that meets all of our requirements, is available from Lake View Cemetery for $900.00 (see our Price List on this page), but you are free to purchase this or other models (provided they meet cemetery requirements) from any source you wish. Many outer cases have various features which will greatly affect the total price.
A grave space must be purchased for each full-size burial at Lake View Cemetery. Although a number of double burials (one full-size burial on top of another) have been done in the past, that practice is no longer permitted at Lake View Cemetery. However, cremated remains may be interred on top of a full-size burial. Lake View Cemetery does not have a Community Mausoleum, however individuals desiring above-ground interment may purchase and erect private mausoleums through Lake View Cemetery or other sources. Please call or stop by our office for further details.
---
Donate Body to Science
Some people choose this option, but one must have alternative options in place, as bodies are occasionally rejected for various reasons. Oftentimes bodies utilized by various organizations are eventually cremated and returned to the family for disposition, or the family may direct the organization to send the ashes directly to a cemetery for burial. Often the organization will pay for burial costs (provided a grave has been purchased).
Cremation
Once a rarity, this practice has steadily increased in usage. Lake View Cemetery presently allows up to three cremains to be buried in one full-size grave. However, only one full-size memorial may be placed on the grave. In cases where cremains are placed in a previously marked grave, an additional small memorial may be added next to the existing memorial. Consult with our staff for further valuable guidance concerning memorials.
Lake View Cemetery presently has no requirement for the type of container in which cremains are buried, but it must be a solid, closed container. Nearly all cremains are received from the crematory packaged in a hard plastic container. This is considered acceptable for Lake View Cemetery burial, but many families choose to place the ashes in other types of urns. You can choose from a wide variety of urns available through our office, or you may wish to purchase one elsewhere. The choice is yours. Urn vaults, small concrete containers that protect the cremains in a manner similar to full-size Burial Vaults, are also available through our office, if desired.
Lake View Cemetery also maintains a Columbarium – a structure for the above-ground interment of cremains – in an area of the cemetery convenient for viewing and close to one of the cemetery roads. This structure is made of brick, sandstone, and bronze, with a flagstone apron. Spaces are available singly or in pairs, and prices include a bronze plate with all necessary information. These spaces, or 'niches', cost no more than in-ground burial, when the cost of a memorial is factored in. Check our Price List below, and call 716-665-3206 or stop by our office for further details.
A limited number of 'Ashes Only' grave spaces are available at Lake View Cemetery. These spaces, about half the length (and cost) of a full-size grave space, are available in selected areas of the cemetery. Up to two burials of cremains may be placed in these graves. Each grave is at least three feet wide, so standard size memorials may be used. Check with our office staff for further details.
Are graves (and memorials) really necessary?
Obviously graves (or mausoleums) are necessary for full-size interments, but with the increasing practice of cremation by today's society, this is a question that deserves thoughtful consideration. The increased mobility and transient nature of today's society might make the notion of a 'family plot' seem somewhat quaint, but actually it's more relevant than ever. Everyone has a desire to be remembered – to feel a lasting connection to one's family, social group, or community. Some people accomplish great deeds, publish books, or in some way create a lasting legacy for themselves. Most of us, however, live out our lives in less newsworthy fashion – no less significant in their own way – just a bit quieter. Over time, even the lives of the once-famous often fade into history. But cemeteries can serve purposes beyond simple burial functions. They serve as reminders for the living – reminders of the past, of our loved ones, of our connection to nature and to each other.
Families scattered over wide geographic areas still come together at Lake View Cemetery to remember and celebrate the life of a loved one whose remains are entrusted with us. Every day, many people come here to walk or jog, take photos, learn a little local history, and generally contemplate nature and their surroundings.
Good cemeteries are valuable places of contemplation, beauty, and art – places of remembrance and renewal. Good cemeteries, by virtue of the history contained in bronze, stone, and written records, are also important repositories of the legacy of those who have gone before us.
Oftentimes you might hear someone say, "When I die, I don't care what you do with me.", in the misguided notion that they will be sparing their family the anguish of struggling with the expense, details, and hardships a formal funeral entails. In fact, they may be helping to create exactly the anguish they hope to avoid.
Frequently this lack of planning can produce financial hardship, family strife, and general dissatisfaction among all concerned. Our earthly remains, while certainly a transient thing, deserve to be treated with respect and care. A body, or an urn of ashes (which are actually pulverized bone fragments, not ashes in the common definition of the word), is best buried or interred in a place where that person's remains, and memory, are accorded the treatment we all would commonly desire. Ashes should not be left on someone's mantel, in a closet, or buried or scattered in some indiscriminate location. Everyone deserves the gift of remembrance.
We hope you will give Lake View Cemetery consideration for this worthy purpose. Come visit our beautiful, well-maintained grounds, and see for yourself.